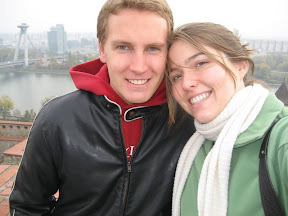 We are excited to see you at our upcoming wedding. It will be held in Ellen's home town of Bend, Oregon, a beautiful and quaint town nestled along the Deschutes River at the edge of the Cascade Range. We think it will serve as a beautiful backdrop to our celebration.
The wedding will be held on Saturday, September 5th, in the middle of Labor Day Weekend. Because that is a somewhat hectic travel weekend, we suggest you start looking at travel arrangements sooner rather than later. Of course, first you should let us know you re planning on being here by returning the RSVP card we sent, or
signing the RSVP here
. Click on the "
Travel
" and "
Accommodations
" links on the side for more information about getting to and staying in Bend.
Our vision for our wedding is to be able to have a great time seeing and hanging out with as many of our family and friends as possible, and part of that vision is having people participate in the wedding process. If you'd like to contribute in some way, whether that be taking photos or video, getting food or decorations prepared, doing a choreographed dance, or just
requesting a song for the reception
, we'd love to have it.
If you'd rather just be here to celebrate with us, we'd love that as well. We'll be planning activities and events to enjoy central Oregon's scenery and culture and your company throughout the weekend, so check the "
Schedule of Events
" page anytime in the months leading up to September.
We're looking forward to this special occasion, and we hope you are too.
Love,
Ellen and Mark